Ekster 5Y anniversary
Nacht van de Beeldende Kunst
26TH OF MAY 2018
— De Studio:
Ekster celebrates their fifth anniversary with a night centered around sonic electronic explorations of some of their close associates .
Facebook event here.
LIVE:
TCF
(Pan - Ekster)
SAGAT
(Vlek - Bepotel)
MILAN W.
(JJ Funhouse - Ekster)
HIELE
(Ekster)
DJ:
NOSEDRIP
(Stroom)
Timetable:
21h00—22h30 Nosedrip
22h30—23h30 Milan W.
23h30—00h30 TCF
00h30—01h30 Hiele
01h30—02h30 SAGAT
02h30—end Nosedrip
Poster by Vrints-Kolsteren
Ekster invited Scott Gilmore & Cate Kennan to Europe.
December 2017.
Roger 3000 performing for the EXO3 release.
9th of December 2017 at Het Bos.
(img by Roger 3000)

LIVE:

ROGER 3000

+ JOLLY CHRISTMAS MARKET

Hantrax: Gazebo Compositions release show.
9th of July 2017 at Het Bos, Antwerp

LIVE:

HANTRAX (Piano performance)
Elko B.: I Bambini Di Basilisco release show.
5th of February 2017 at Het Bos, Antwerp

LIVE:

ELKO B.


ssaliva: we never happened release.
27th of January 2017 at Trap.

LIVE:

SSALIVA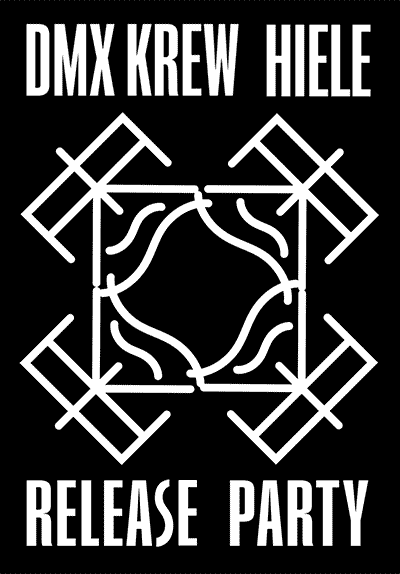 Celebrating 3 years of publishing records with a double release party.
28th of May 2016 at Ampere Antwerp.

HIELE album release (EKS008)
+
DMX KREW album release (EKS009)

LIVE:

DMX KREW (UK - Rephlex, Breakin' Records, Ekster)
HIELE (BE - Ekster)
SSALIVA (BE - Ekster, Leaving records, Vlek)

DJs:

STELLAR OM SOURCE (FR - RVNG Intl.)
RAPHAEL (BE - Dozer)


23rd of April 2016 at De School, Amsterdam
LIVE:
HIELE
SSALIVA

+ DJ NOSEDRIP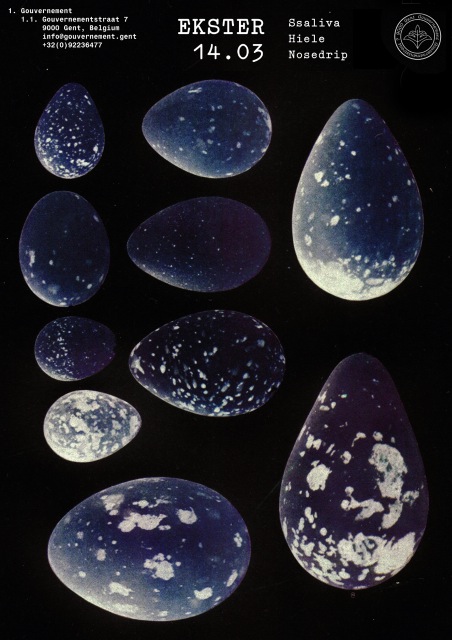 Gouvernement invites Ekster
14th of March 2016 at Gouvernement.

LIVE:
HIELE
SSALIVA

+ DJ NOSEDRIP
TCF cryptowear collection by TCF & Victor Robyn.
Originally presented on the 12th of Nov 2015 at
Cell Project Space
London. Encoded messages on garmends with one key to unlock them all.
More Info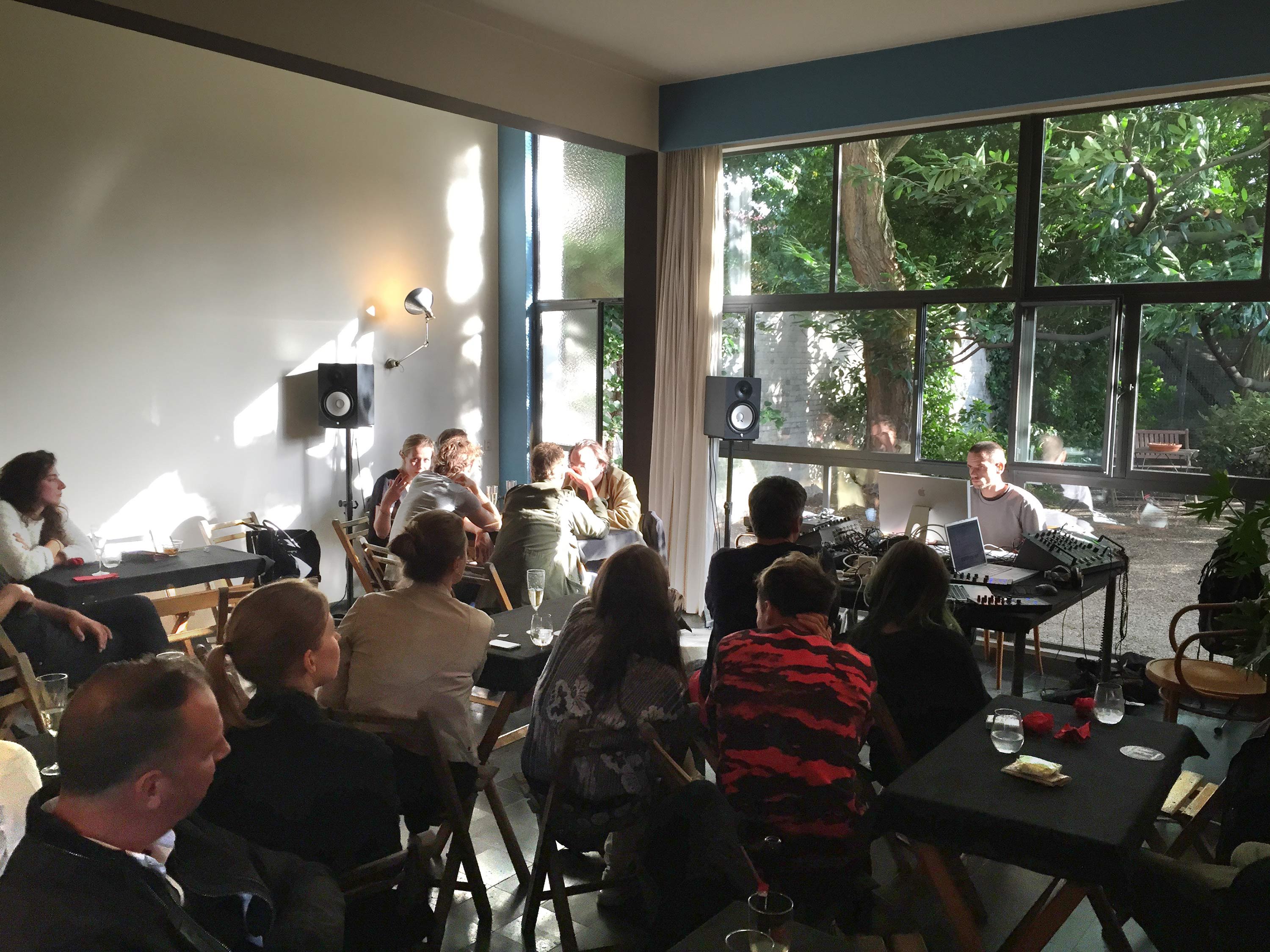 ssaliva: BE ME release-show
6th of September 2015 at Maison Guiette.

LIVE:
SSALIVA

DJ:
SOUND-SCORE FOR A SCULPTURE
(Raphael & Michiel)

Food:
EMIEL REDANT
Celebrating TCF's upcoming release on Ekster, early 2015 : EKS005
6th of December 2014 at Stockholm S. Antwerp

LIVE:

M.E.S.H. (PAN)
TCF (Liberation Technologies, YYAA, Ekster)
HIELE (Ekster)

DJ:

MILLS BOOGIE
Hiele's "Essential Oils" release-party on Ekster.
14th of March 2014, at Piaf Antwerp


LIVE:

HIELE (Ekster)
BEPOTEL (Vlek)

DJ:

NOSEDRIP
RAPHAEL
STROHEIM
MILLS BOOGIE




Celebrating our first year of publishing music.
29th of May 2014 at Het Bos.

LIVE:

TCF
HIELE
HANTRAX


B2B - DJs:

REDREY & STROHEIM
RAPHAEL & MILLS BOOGIE



Jack N. Riot - Neornithes - 12inch release,
accompanied by a colourful Moonrice menu by Moonrice Kitchen.

15th of November 2013 In De Roscam - Antwerp

MENU:

Marbled pancake with fresh wegetable and herby filling

Congi with five-spiced tofu /or pork meatballs
served with a cabbage and celeriac salad
crunchy carrot pickle and boiled egg

Pandan green banoffee pie


Hantrax: Living In My Bathroom release party
21st of September 2013 at
Café Strange.
DJ's:
HANTRAX
REDRAY
RAPHAEL
MILLS BOOGIE
ALLON KAYE
HIELE